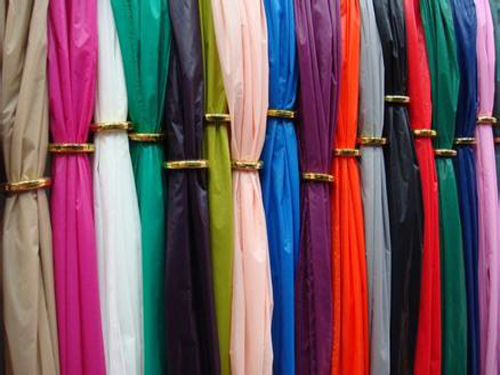 With the continuous development of science and technology, with the application of plant fibers in clothing and textiles, there have been various clothing and textiles containing "a plant" on the market. Recently, various "Mint" products have appeared on the market. Xiao Bian opened a shopping website, "Mint fiber" underwear, "Mint fiber" children's clothing, and "Mint fiber" bedding sold on the Internet.

Most of these "Mint" products can clearly smell the peppermint odor, thus prompting consumers: This product is mint, then in fact it is not the case? To this end, the reporter specially contacted the only manufacturer of mint fiber, Qingdao Baicao Fiber Technology Co., Ltd., where we met, Professor Yu Husheng of the Institute of Textiles and Clothing of Qingdao University, a mint patent fiber patent inventor, consulted him about mint. Knowledge of textile materials.

Peppermint is a well-known natural plant that has a cool, eye-catching, refreshing and other effects. People have a long history of recognizing and using peppermint. Using peppermint, people use peppermint and herbs, food additives, cosmetics, personal Toiletries. In addition, mint has a unique aromatic odor. People often have a special smell to identify mint.

According to the professor, the mint plant is composed mainly of two types of ingredients. One is menthol which emits a minty odor. It is also an important constituent element in peppermint essential oils; the other is to impart a refreshing, antibacterial effect to mint. Anti-inflammatory" and other special menthol, while menthol is not taste. When we applied mint, its special aromatic odor was hard to keep because of its rapid volatilization. To give a simple example, the mint chewing gum we often eat is covered with a layer of tin foil. The purpose is to prevent the volatilization of the mint odor as much as possible, but when we open the tin foil and eat the mint, we often smell the menthol odor. Not very obvious, but there is a cool feeling of mint when chewing. The same applies to clothing and textiles. Clothing and textiles that are truly made from mint fibers are odorless. What about the smell of mint in clothing in the market?

Professor Yu introduced that the general smell of peppermint can be done in two ways: first, in the process of clothing finishing or before the sale, the peppermint oil is sprayed on the surface of the garment, and then the sealed package is packaged. The consumer buys it back and just opens the package. A menthol odor can be smelled, but it soon disappears; there is also a longer way to retain the menthol odor by coating the peppermint oil in a fine capsule, just like the fish-like oil capsule we usually eat. The appearance of the capsule is then affixed to the surface of the garment material with an adhesive. After the consumer purchases the product, the capsule will gradually break through rubbing and rubbing, and the peppermint essential oil will slowly evaporate, resulting in a continuous mint odor. However, after such garments have been washed many times, the capsules are broken and lost, and the mint odor disappears.

With the application of nanotechnology, we have super-finely pulverized the active ingredients of mint and added it to textile raw materials to form a stable combination with other textile materials. After spinning and weaving, we achieve Peppermint plants are permanently added to textile materials. The concept of mint fiber we developed was green and natural, and we did not deliberately keep the odor of mint, but also paid more attention to the active ingredients such as "cool refreshing, anti-bacterial and anti-inflammatory". Individual businesses in order to take advantage of the average consumer's lack of awareness of mint, that is the scented mint, will use chemically refined peppermint oil, chemically attached to the surface of clothing, not only destroy the mint green natural The concept, at the same time, the presence of chemical components can also have an effect on health. This is why we smell a pungent mint flavor in some mint products.

So if there is no mint odor, how can one identify clothing or textiles made from "menthol fiber"? Here are a few ways to introduce you:

First, garments made of natural mentholated fiber materials have good antibacterial properties, so if they sell natural mint clothing or textiles, businesses can provide antibacterial test reports issued by authoritative departments;

Second, the active ingredient mint in the mint can be detected by technical means, China's quality standards in the mint fiber in the content of menthone has a clear requirement, consumers can suggest to the business menthone content test report;

Thirdly, look at the standard of washing and washing. In clothing or textiles, the water wash label is clearly marked as mint-modified viscose fiber or viscose fiber (containing mint ingredients);

Fourth, look at the touch, through the direct touch of the touch of clothing, natural mint fiber material generally has a cool feeling, feels cool, but by spraying essential oils to prove that the mint product, not only does not feel cool, There is also a pungent mint flavor. At the same time if you want to further confirm, you can let merchants provide cool feeling test report.

Through the above method, we can simply and effectively identify the real mint fiber material. Healthy and comfortable products are our top priority in pursuing good health and quality of life. The correct understanding of various new products on the market can help us to be more clear in our choices, and eliminate all kinds of chemical products that are harmful to our health. Influence, let the child grow up healthily, the old man is peaceful in old age, make the new product technology serve our life better.
polar fleece blanket , polyester two sides brushed , super soft and warm , light weight .
we are factory for customized panton color number and customized print design , OEM and ODM are acceptable .
we are factory with fast delivery and cheap price , in strict quality level .
polar fleece blankets will decorate your lovely home and be preferred by children or pets. They are also the perfect choice as a gift for your family and friends.
This cozy-soft small microfleece throw blanket is machine washable & easy to keep clean. Machine wash in cold water with similar colors. Tumble dry, low heat. No bleach. Do not iron.

Customizable Flannel Blanket,Soft Polar Fleece Blanket,Flannel Fleece Thermal Blanket,Custom Printed Fleece Blanket
Shaoxing Fangzhuo Textile Co.,Ltd , https://www.printblanket.com